Ready for the future with hybrid working
"Ypsylon, makes change possible", that has been our "pay-off" for years. After having enjoyed working at our office in Assen for 14 years, it is now time for a change. We will move to Groningen as of October 1. In Groningen, we will relocate to the building of "My Office Stadspark", a modern and inspiring working environment. The concept of "My Office" fits in very well with the (new) hybrid way of working.
From workplace to meeting place
The corona pandemic has accelerated the digital transformation of organizations. Today, time and place independent working has become even more topical. The rigid working from 9 to 5 at the office is no longer the norm. Being able to work in a hybrid way gives employees autonomy and flexibility. It combines 'the best of both worlds': the freedom of working from home with social interaction at the office. For professionals, the office has become more of a meeting place where information is exchanged. In the office of the future, there will be more freely configurable spaces with work zones in which you can respond to the wishes of your employees. For example, a library/quiet room for those who want to work in silence and a cafe where you can drink coffee and have informal discussions. This meeting place focuses on the needs of employees, the team and the organization. This does not mean that permanent workplaces will disappear. Certain employees will always have a need for this. It is therefore a customized concept that is different for every organization.
Hybrid working is custom work
As of October 1, 2021, our organization Ypsylon will switch completely to hybrid working. With hybrid working, our colleagues (Groningen office and Amstelveen office) will combine working from the office for several days with working from home. Visiting the office will mainly be to carry out our services that take place face to face or to jointly discuss ongoing projects. We also facilitate fixed workplaces for colleagues who need to be in a different environment for a while. We continue to provide tailor-made services for our customers in the provision of our services face to face or online. The wishes of our customer will be leading in this.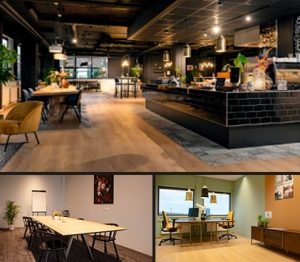 In summary: a move to an inspiring work environment with the new hybrid form of working. We are looking forward to our new workplace in Groningen, 'the city of talent'. We are excited to see what this city has to offer us. We would therefore like to invite you to come and take a look at our new office after 1 October.

Our new address is:
Leonard Springerlaan 35
9727 KB Groningen
050-3053414
[email protected]
PAY ATTENTION! The phone number mentioned above is our new phone number. You may delete our old number.